Jenna Moffat is one of the Co-Founders of Clickability. She has a Bachelor of Social Work and began her career in disability as a support worker. Before bringing her Clickability vision come to life, she was a team leader of a case management service, working with adults, children, and families. You can drop her a line at [email protected].
It's Tuesday, just gone 2 o'clock, and my body mechanically gets to work at what can be best described as "dad dancing" – there's some finger pointing, head nodding and occasional leg jerks. It's not good. And is barely passable as a "dance".
That's where the people seated around me come in. I had asked them to endure my performance and then provide feedback through little laminated blue stars and a short discussion.
The reviews come in; they are, as predicted, not great. But I did ask for feedback, so they don't hold back. I prompt and prod them to tell me more, what they liked, what they didn't, and what I could do to improve.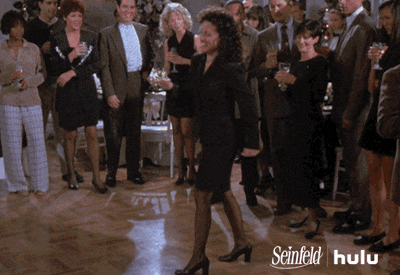 "Try to look a bit less …. robotic."
"Points for giving it a go."
"You need music!"
A bit discouraged but not defeated, I bravely jump back in for another go, focusing on all the feedback I'd just received. This time, I have music playing and my hips really hop, and my body starts to pop. Audience members jump up with me and we're all having fun. My performance gets rated again and I actually improved! I even gained three whole stars.
We chat about why this feedback is important, how it helps us improve. We also discuss what it's like to provide feedback. How it feels to have someone listen and respond to what you say.
And in these workshops, which I've been running for Clickability for almost two years now, standing there and dancing awkwardly in front of strangers in the middle of the day, I always ask the same question. Why are you more comfortable reviewing my dodgy dancing than giving feedback to your disability service?
The answer is always the same: It's different because you asked.
There is so much value and power in asking people to give feedback. So, if you genuinely want to use feedback to improve, you have to actively invite that feedback and reassure your audience that you're okay with whatever advice they've got to offer.
Permission is one aspect of this. Power is another. We need to remember that people with disability have been systematically disempowered through government policies, societal attitudes, and institutionalizations. The NDIS alone isn't going to change this. Nor is the Clickability website. As one advocate put it, "you can't expect a previously disempowered group to suddenly jump online and write reviews." We know that there is still a lingering nervousness in our sector around the act of reviewing. We've heard concern from both pwd and their families that if they speak up they will be blacklisted. Or labelled. Or even be cut off from vital services. These things have happened and the fear and recrimination will continue until there is greater balance.
Disability services today have an opportunity to change the legacy and narrative around feedback. They have the opportunity to show people what it's like to be valued as a customer. Sometimes, all you have to do is ask.
One thing I am most proud of with Clickability (aside from the marked improvement in my dance skills) is that we are working to promote not just the consumer role in giving feedback but also the service's role in inviting feedback. If we get this balance thing right, people will be more forthcoming with honest, helpful advice, the sector improves, everyone wins, and maybe one day, I can stop dancing in front of strangers.
This post is brought to you by Clickability. We're working towards a better disability service sector by helping users share their ratings and reviews. We invite you to write a review.
Tristram's Suggested Blogs